For bathroom and kitchen remodeling, you have the option to choose between framed or frameless cabinets.
Understanding the difference between the two can help you make an informed decision for your home. In this blog post, we will explore the characteristics, benefits, and drawbacks of framed vs frameless cabinets pros and cons.
What is a Face Frame Cabinet?
Framed cabinetry is the traditional choice that has been around for decades.
These cabinets feature a solid wooden frame around the front edges, which provides structural support and stability. Usually, makers use sturdy sturdy solid wood like oak or maple to create the frame. They attach cabinet doors and drawers to the frame. There is also usually center stiles in the front of the cabinet.
The cabinet box construction usually looks like this picture: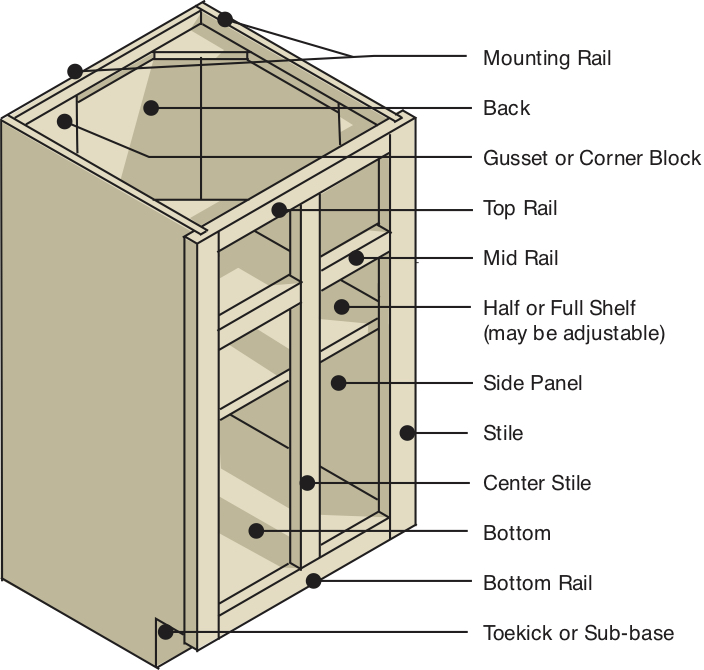 Taken from the NKBA
One of the key advantages of framed cabinets is their durability. The frame adds strength to the overall structure, making it less prone to warping or sagging over time. Additionally, the frame provides a solid base for hinges and hardware, ensuring smooth operation of the cabinet doors.
They also offer a wider variety of cabinet door designs compared to frameless cabinets.
However, framed cabinets do have some drawbacks. The frame occupies valuable storage space, reducing the interior capacity of the cabinet. This can be a significant consideration if you have a smaller kitchen or bathroom. Furthermore, the frame can create obstacles when accessing items stored in the corners of the cabinet.
What are Frameless Cabinets?
Frameless cabinets, also called European-style cabinets or full-access cabinets, have become popular in recent years. These cabinets lack a front frame, and they attach the doors directly to the sides of the cabinet box. This design creates a sleek and modern look, with clean lines and a seamless appearance.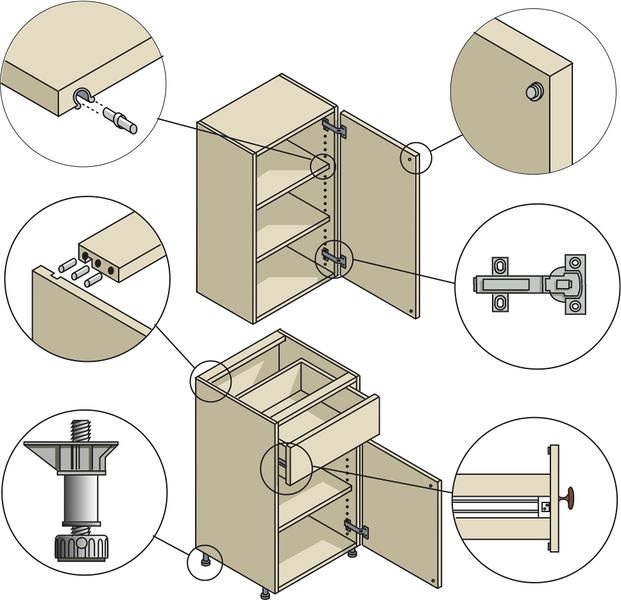 Taken from the NKBA
One of the main advantages of frameless cabinets is their increased storage capacity. Without the front frame taking up space, you can utilize the entire cabinet interior for storage. This is especially beneficial for smaller kitchens or bathrooms, where every inch of storage matters.
Additionally, frameless cabinets offer easier access to items stored in the corners. Since no frame obstructs the opening, you can fully utilize the cabinet's interior without any limitations. This makes organizing and retrieving items a breeze.
However, frameless cabinets may not be as structurally strong as framed cabinets. Without the added support of a frame, they may be more susceptible to warping or sagging over time. It is crucial to choose high-quality materials and proper installation to ensure the longevity of frameless cabinets. This is also why there are limited design options too because the cabinet box is not able to support every door.
Factors to Consider When Deciding Between Frameless vs Framed Kitchen Cabinets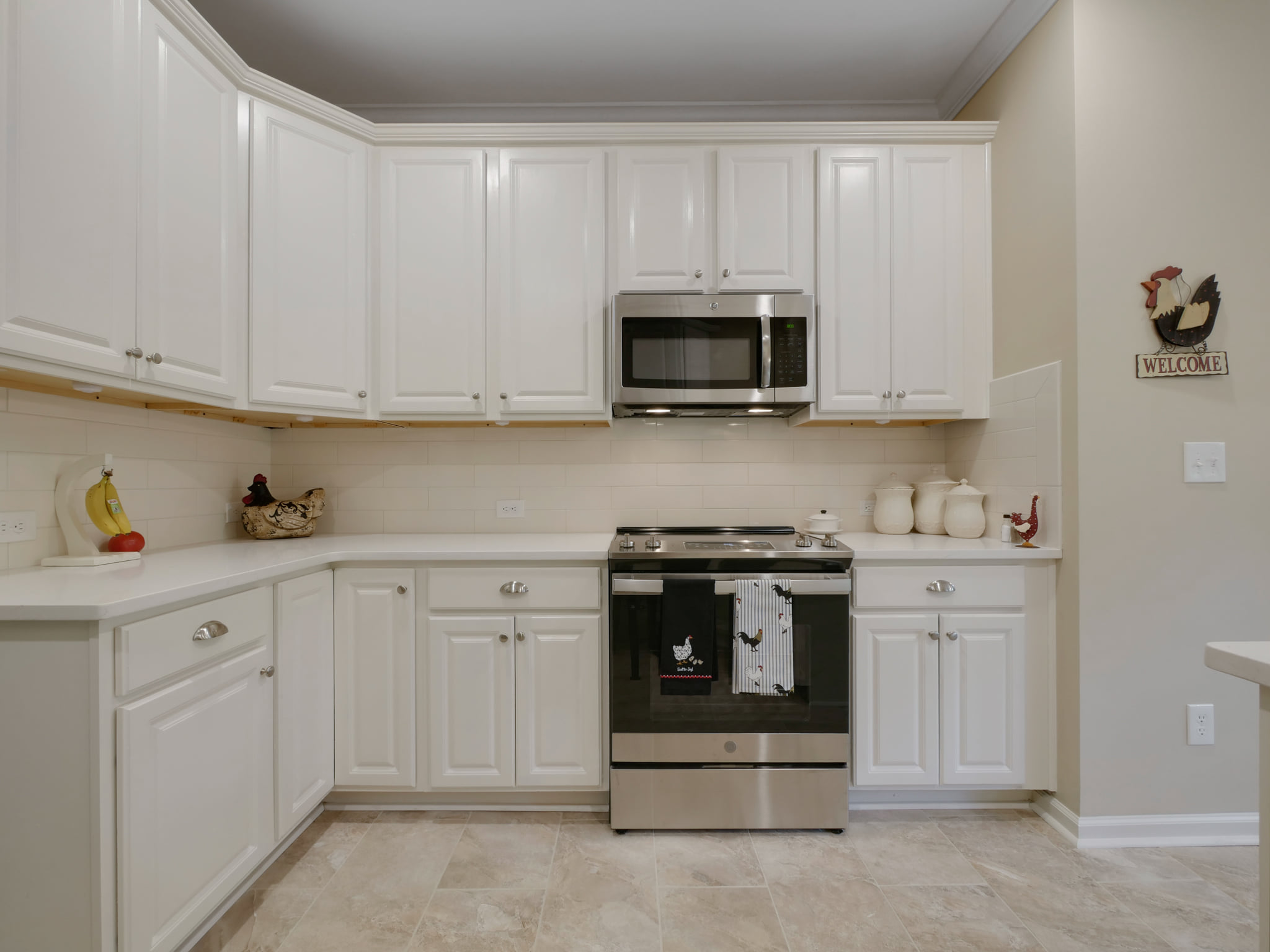 Kitchen Style and Design Preferences
Consider your overall kitchen style, whether it's traditional design, transitional, or modern, and select cabinets that align with your design vision. Full-access frameless cabinets tend to be more modern and sleek than faceframe cabinets.
Budget Differences in Framed vs Unframed Cabinets
The cost difference between framed and frameless cabinets is another thing to consider when choosing between the two cabinet construction styles. Frameless cabinets tend to be more expensive than cabinets with framed construction. This is because:
Cabinet frame styles require less precision in manufacturing.

Some frameless overlay cabinets have a higher quality of hardware needed to install frameless door styles.

Framless cabinets may have a higher installation cost because of their design.
Storage Capabilities of Face Frame vs. Frameless Cabinetry
Assess your kitchen's storage requirements, considering factors like the number of utensils, cookware, and pantry items you need to accommodate. Frameless cabinets have more storage space because there is no frame or stile blocking the inside of the cabinet.

If you have family members with mobility challenges or specific accessibility needs, frameless cabinets offer easy access and functionality.
By looking closely at these factors, you can make a smart choice between framed and frameless cabinets for your kitchen.
In conclusion, both framed and frameless cabinets have their own set of advantages and disadvantages. Framed cabinets are sturdy and reliable. Frameless cabinets, on the other hand, offer more storage and are easier to access. This is particularly beneficial for individuals who require extra space or have accessibility issues.