Additions are a valuable investment for homeowners looking to enhance their living space and improve their quality of life. Many homeowners, however, are unsure of how to plan an addition and what the overall process for adding an addition to a house is.
Whether you desire a home office addition, a living room addition, or a sunroom addition, the steps to building an addition to a house are the same.
So if you want to know the ins and outs of designing a home addition, and how to plan an addition to your house, keep reading.
Overview of the Steps to Building an Addition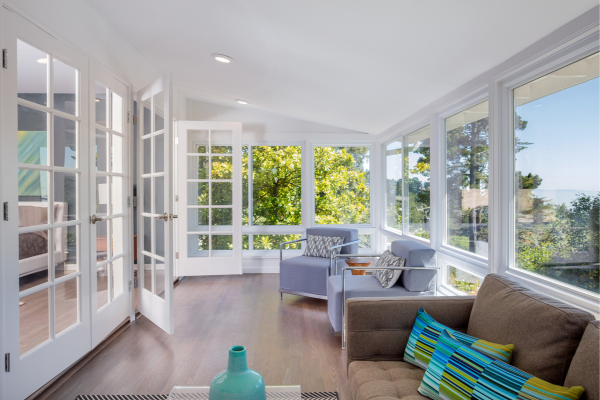 Building an addition to your home involves several steps. Here is an overview of the steps to building an addition:
1. Planning
2. Designing
3. Preparing the Site
4. Construction
5. Finishing Touches
6. Completion and Cleanup
How to Start a Home Addition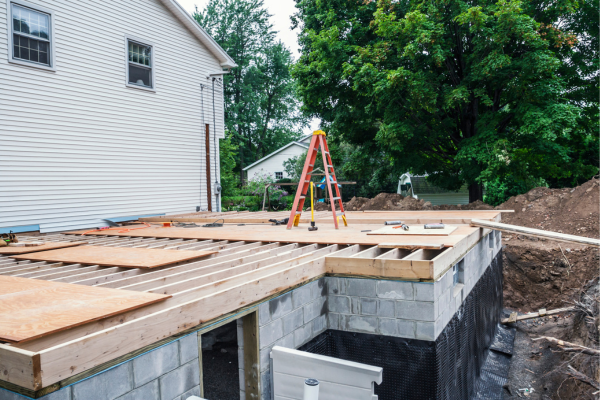 Step 1: Planning
Adding a custom home addition can increase value, but it needs careful planning for success. Here are the key steps to follow when planning your home addition:
1. Define Your Goals:
Begin by clearly defining your goals for the home addition. Are you looking to add more living space, create a new bedroom, or build a home office?
Understanding your objectives will help guide the entire planning process. Also, consider what structures you already have. For example, if you have a porch, consider adding a second-floor addition over the porch.
2. Set a Budget:
Determine how much you are willing to invest in your home addition. Consider factors such as construction costs, permits, and any additional expenses that may arise during the project. It's important to set a realistic budget to avoid any financial strain later on.
You also need to understand that room addition costs are associated with each amount of added square footage. In general, home additions cost anywhere between $200 per square foot to $500 per square depending on your finishes and materials.
3. Research and Gather Room Additions Ideas
Look for inspiration in magazines, online platforms, or even by visiting other homes with similar additions. This will help you visualize the end result and make informed decisions during the planning phase.
4. Consult with Professionals:
Reach out to reputable architects or home addition contractors to discuss your project. They can provide valuable insights, offer design suggestions, and help you understand if your ideas are possible. Their expertise will be crucial in ensuring that your home addition meets all necessary regulations and requirements.
To find go great addition builders, google "home addition contractors in my area", or "home addition company near me". You can also join local Facebook groups and ask for recommendations for home additions and remodeling contractors that they have used.
5. Obtain Permits:
Before starting any construction, it's essential to obtain the required permits from your local building authority. Your general contractor should handle this for you. This process may involve submitting a detailed floor plan, paying fees, and adhering to specific guidelines. Working with professionals who are familiar with the permit process can help streamline this step and prevent any delays.
6. Create a Timeline:
Develop a realistic timeline for your home improvement project. Consider factors such as the availability of contractors, potential weather delays, and any other variables that may impact the construction process. Having a well-defined timeline will help you stay organized and ensure that the project stays on track.
7. Consider Potential Challenges:
Anticipate any potential challenges that may arise during the construction process. This could include issues with the existing structure, unexpected costs, or even neighborhood restrictions. By identifying these challenges early on, you can develop contingency plans and minimize any disruptions to the project.
By following these steps, you will be well-prepared to embark on your home addition journey. Remember to stay flexible and open to adjustments along the way, as unforeseen circumstances may arise. With proper planning and the right professionals by your side, your dream home addition will soon become a reality.
Step 2: Designing
During the design phase of a house addition process, collaboration with a home addition designer is crucial. This involves creating a detailed plan and layout for the addition, considering architectural style and aesthetics, and incorporating functionality and practicality.
The home addition designer will work closely with the homeowner to understand their goals and vision for the project. They consider the current structure, space, and budget to create a design that meets the homeowner's requirements.
Step 3: Preparing the Site
Preparing the site for a house addition is an essential step in the home addition process. It involves several tasks to ensure a smooth construction process.
First, clear the area for construction by removing any obstacles or debris. If necessary, we may need to demolish to make space for the addition. It is crucial to ensure proper foundation and structural support to ensure the stability and safety of the new addition.
Addressing any utility or plumbing requirements is also important during this stage. This includes making necessary connections or adjustments to existing systems to accommodate the new addition. By properly preparing the site, homeowners can lay the foundation for a successful and seamless house addition.
Step 4: Construction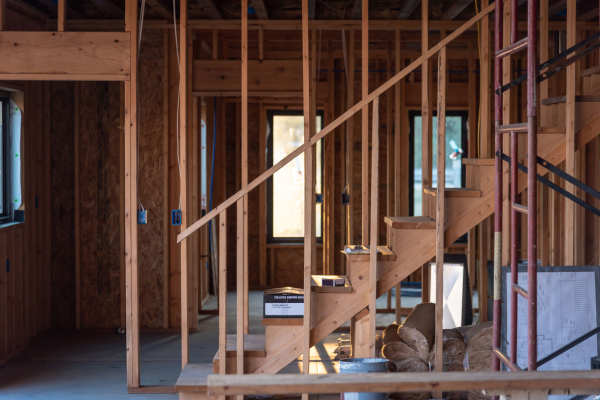 The construction phase is a crucial step in the process of creating a home addition. During this phase, it is important to hire a reputable home addition contractor who will manage the construction process efficiently. The contractor will ensure that they follow the construction timeline, conduct regular inspections, and maintain quality control.
They will also address any unforeseen issues or changes that may arise during the construction process. This phase involves the installation of electrical and plumbing systems, insulation and drywalling, flooring, painting, and trim work. It is also important to finalize any necessary permits and inspections to ensure compliance with local regulations.
Homeowners can ensure their home addition meets their specifications by hiring a contractor that carefully maintains high standards.
Step 5: Finishing Touches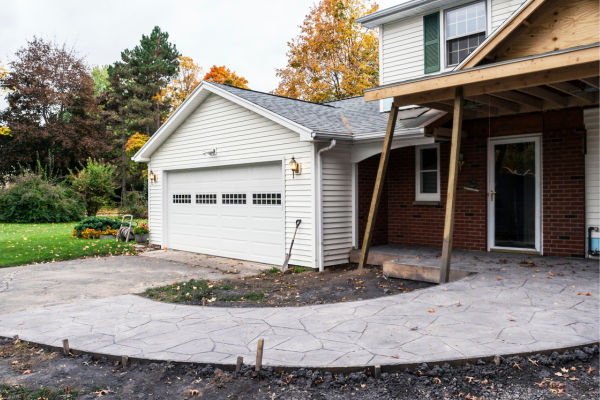 The finishing touches phase of a home addition is the final step in the construction process. During this phase, subcontractors complete various tasks to give the addition its final look and functionality. This involves installing electrical and plumbing systems to ensure that the addition has all the necessary utilities.
Contractors insulate the walls and install drywall to provide proper insulation and create a finished interior. We carry out flooring, painting, and trim work to enhance the aesthetics of the space and make it visually appealing.
Finally, we finalize any necessary permits and inspections to ensure that the addition meets all local regulations.
Step 6: Completion and Cleanup
The completion and cleanup phase is the final step in the process of building a home addition. During this phase, several tasks are carried out to ensure that the addition is fully finished and prepared for use.
Any remaining punch list items, such as minor repairs or adjustments, are addressed to ensure that the addition is in perfect condition.
Afterward, the construction site is thoroughly cleaned up, removing any debris or materials that were used during the construction process. Finally, it's time to celebrate the completion of your home addition and enjoy the new space that has been added to your home.
In conclusion, the home addition process is a comprehensive journey that involves careful planning, collaboration with professionals, and meticulous execution.
By following the step-by-step guide outlined in this article, homeowners can successfully navigate through each stage of the process and create their dream living space.
From defining goals and setting a budget to working with home addition designers and contractors, every step plays a crucial role in ensuring a successful outcome.
A well-planned and executed home addition not only enhances the functionality and aesthetics of a home but also adds value to the property. So, if you're considering expanding your living space and improving your quality of life, now is the time to start planning your own home addition project.
With the right resources and guidance, you can turn your vision into a reality and create a space that truly reflects your lifestyle and needs.