Custom tile showers are a popular choice for homeowners looking to add a touch of luxury and personalization to their bathrooms. In this article, we will explore the cost and design ideas for custom tile showers.
Learn all about shower bases, tile patterns, plumbing fixtures, and enclosures to create your perfect custom tile shower. Whether you're interested in a sleek and modern design or a more traditional and intricate pattern, we've got you covered. So let's dive in and discover the possibilities for your custom tile shower!
What makes up a tiled shower?
A custom tile walk-in shower usually consists of these components:
Custom shower base for tile

Tile designed in different shapes and patterns

Plumbing fixtures

Shower enclosure or glass surround

Ad-ons and accessories
Shower Base or Shower Pan
The shower base, also known as the shower pan, is an essential component of a custom tile shower. It serves as the foundation for the entire shower and provides a waterproof barrier to prevent any leakage. When choosing a shower base, you have a variety of options to consider.
One popular choice is a pre-formed shower base made of acrylic or fiberglass. These bases are light, simple to install, and come in various sizes and shapes to match your shower design. They also offer a smooth and seamless surface, making them easy to clean and maintain.
You can construct a custom-built shower base using materials like concrete or tile as another option. This allows you to create a shower base that perfectly matches your desired design aesthetic. However, it's important to note that custom-built bases require professional installation and may be more expensive than pre-formed options.
When selecting a shower base, it's crucial to consider factors such as durability, slip resistance, and ease of cleaning. You want a base that will withstand daily use and provide a safe and comfortable showering experience. Additionally, think about the size and layout of your bathroom to ensure the shower base fits seamlessly into the space.
The zero-clearance shower pan is a popular choice for custom tile showers because of its sleek and seamless design. This shower pan is designed to be even with the bathroom floor, creating a smooth transition and a nice appearance.
The step-free shower pan is perfect for people with mobility problems or those who like a simple look. It provides a spacious and open feel to the shower area, while still offering the necessary waterproofing and drainage features. With its modern and stylish appearance, the zero-clearance shower pan can enhance the overall design of your custom tile shower.
Once you've chosen the perfect shower base, it's time to move on to the exciting part – selecting the tile pattern for your custom shower. Whether you prefer a classic subway tile or a bold mosaic design, the possibilities are endless. Let's explore some popular tile patterns that can elevate the look of your custom tile shower.
Custom tile design and tile patterns
There are many custom tile shower design ideas for you to choose from for your bathroom remodeling project. Here's some different options illustrated by Porcelanosa:
Types of Custom Shower Tile
When building a custom tile shower, there are many tile options, each with its own style and characteristics. Here are some popular options:
Penny Tile: People often use penny tiles to create intricate mosaic patterns. They add a touch of vintage charm and people can make them from materials like porcelain or glass. These look really nice when the installer uses them on custom shower pans for tile.

Glass tiles: People know glass tiles for their beauty and ability to reflect light. They come in a wide range of colors and you can use them to create a modern and luxurious look.

Porcelain Tiles: Porcelain tiles are a popular choice for custom tile showers because of their durability. There also many ways to use them. You can use them to tile floors and walls. They are available in various sizes, colors, and patterns, making them suitable for both traditional and contemporary designs.

Ceramic Tiles: Ceramic tiles are a classic option for custom tile showers. They are available in a wide range of colors and patterns, allowing for endless design possibilities. Ceramic tiles also have a reputation for being affordable and easy to maintain.

Subway Tiles: People often use subway tiles in a brick-like pattern. They possess a timeless appeal and enable the creation of a clean and minimalist look in a custom tile shower.

Stone Tile: Stone tiles are a great way to bring a spa-like feel to your bathroom. However, they are usually more expensive than other types of tile. Also, since these floor tiles require more grout, it can be harder to keep them clean. You also need to seal some types to keep them looking their best.
When choosing tile for your shower, think about the design, durability, and how easy it is to clean. It's also important to choose tiles that are suitable for wet areas and that are not slippery.
Plumbing fixtures
The plumbing fixtures that you choose for your custom shower make a big impact on the overall bathroom design and function. Here are the most common plumbing fixtures that make up a shower:
Shower Head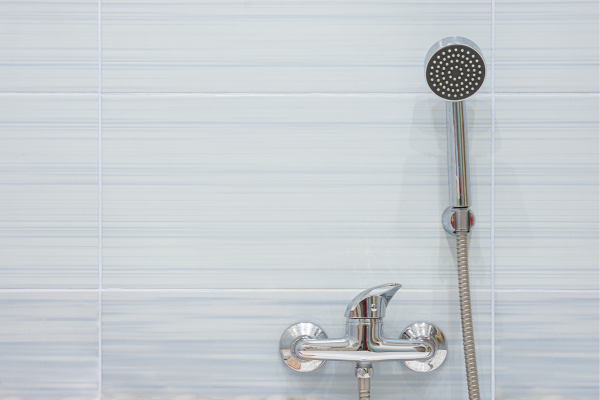 Shower heads are an important part of a custom tile shower design and function. They determine the water flow and spray pattern. When choosing a shower head, there are several factors to consider.
Fist, you have to choose between a fixed shower head or a handheld shower head. Fixed shower heads give a steady water flow, while handheld ones are more flexible and convenient. You can install both, if desired.
Body Sprays
Body sprays are becoming popular additions to custom tile showers as they provide a luxurious and spa-like experience. These fixtures are placed on shower walls and gently spray water from different directions. Body sprays can be put at different heights and angles, allowing you to create your own special shower experience.
They are a great option for those who enjoy a full-body massage or want to enhance their showering routine. When picking body sprays, think about water pressure, spray patterns, and how many sprays you want for your shower.
Shower Valve and/or Diverter
Shower valves and/or diverters are important parts of custom showers that control the flow and temperature of water.
A shower valve is what controls the water pressure and temperature.
A diverter is used to change the flow of water between different shower fixtures, like a showerhead and body sprays. This allows you to switch between different water outlets and customize your showering experience.
When picking shower valves and diverters for your custom shower, think about durability, ease of use, and compatibility with your plumbing.
Shower drain (linear or regular cover)
Shower drains are an essential component of custom showers. They play a crucial role in ensuring proper drainage and preventing water buildup in the shower area. For custom showers, you can choose between two types of drains: linear drains and regular drains with covers.
Linear drains, also known as trench drains, are becoming increasingly popular in modern shower designs. Long, narrow drains are typically installed along one side or in the center of the shower floor.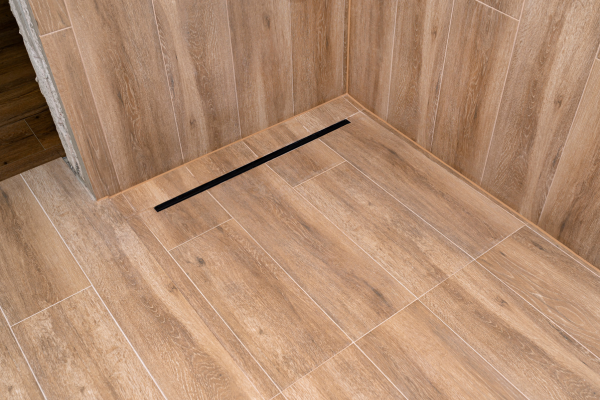 Linear drains look smooth and seamless, as they can be covered with the same tile as the shower floor. This creates a visually appealing and cohesive design. Additionally, linear drains provide efficient water drainage, as they have a larger surface area compared to regular drains.
On the other hand, regular drains with covers are the more traditional option for custom showers. These drains consist of a round or square drain opening with a removable cover. The cover can be made of various materials, such as stainless steel or tile, to match the overall shower design. Regular shower drains are located in the center of the floor and require a slight incline for proper water drainage.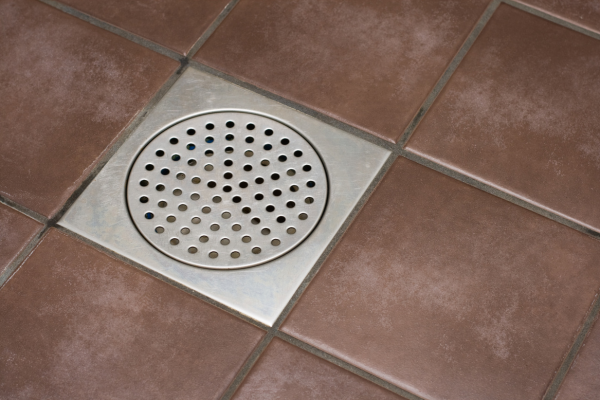 When choosing a shower drain for your custom shower, consider the design, functionality, and ease of cleaning. Both linear drains and regular drains with covers have their advantages and can be suitable for different shower designs. Ultimately, the choice depends on your personal preference and the overall style you want to achieve in your custom tile shower.
Shower Enclosure or Glass surround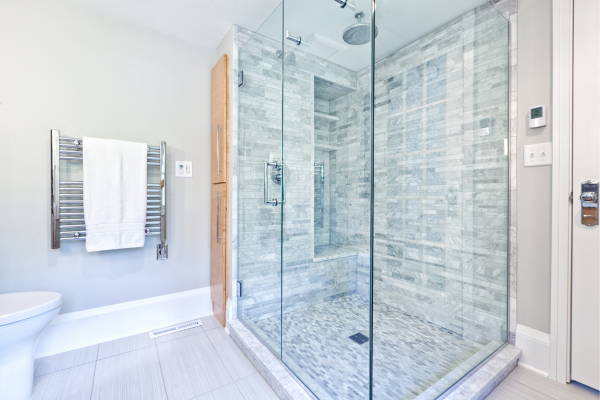 A shower enclosure or glass surround is an essential component of a custom tile shower. It not only adds a stylish and modern touch to the bathroom but also provides functionality and practicality.
There are different types of shower enclosures available. These include full glass-frameless or framed showers, open showers, and knee walls with glass panels and doors. You have the option to choose from these different styles.
You can customize each option to fit the overall design of the custom tile shower, and they offer a unique aesthetic. Additionally, shower enclosures help to contain water within the shower area, preventing it from splashing onto the bathroom floor. They also provide privacy while allowing natural light to flow through, creating a bright and airy atmosphere.
A glass shower enclosure improves the appearance and usefulness of a custom tile shower.
Add ons
For custom tile showers, you can add things to improve how it works and how it looks. One popular add-on is a bench, which provides a convenient seating area for relaxation or shaving.
A grab bar is another useful addition, especially for those with mobility concerns, as it offers stability and support while showering.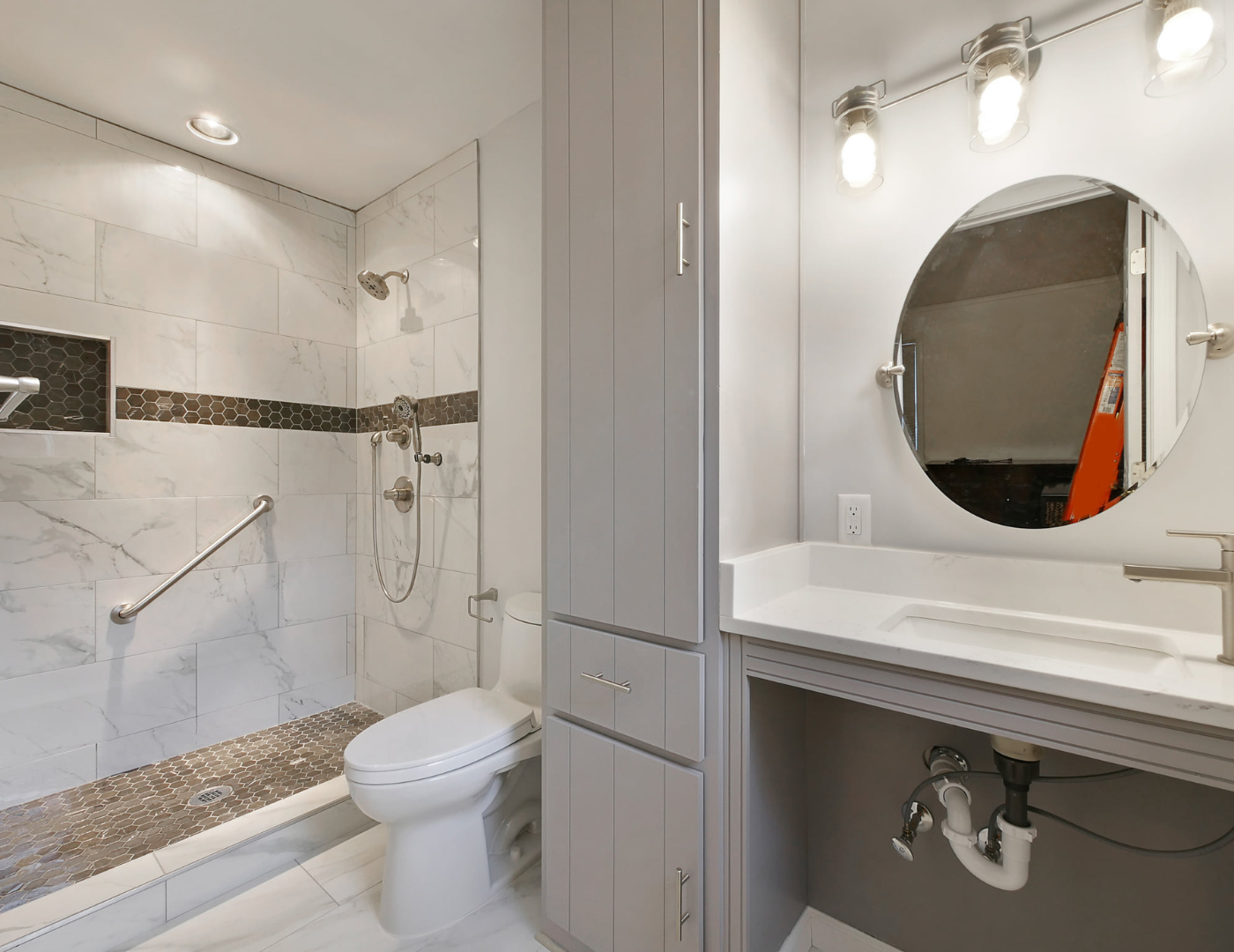 A shower shelf is a practical add-on for storing shower essentials such as shampoo, conditioner, and soap.
Niches are small areas in the shower wall for holding toiletries or decorations, adding style and organization to your shower.
These extras enhance your custom tile shower, making it more functional and providing a luxurious and personalized bathing experience.
For more information on how to do your bathroom remodel, check out our blog.